Wall of Distinction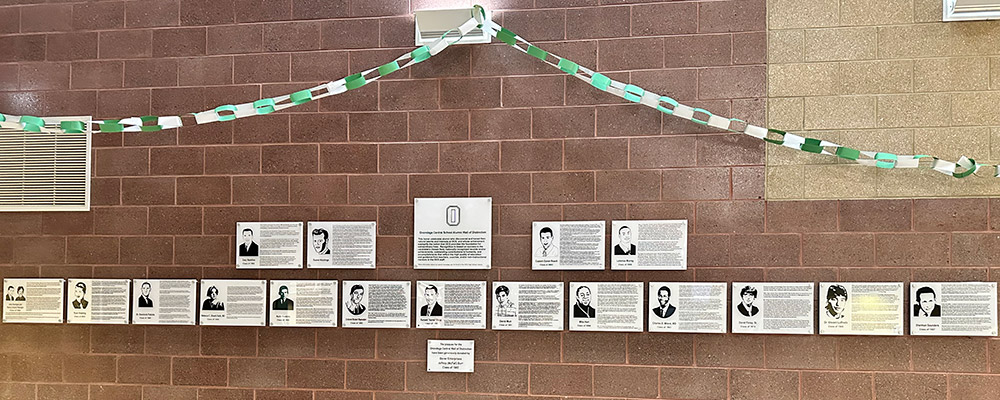 The Onondaga Central School District is currently accepting nominations for their Wall of Distinction. Nomination forms are available online by clicking here or by calling Janet Ferris, at (315) 552-5020. All nominations must be submitted by the first Friday in the month of June and may be mailed, emailed or returned to the high school office. Please address them in care of Janet Ferris, 4479 South Onondaga Rd. Nedrow, N.Y. 13120 or by email jferris@onondagacsd.org; cc: tmumford@onondagacsd.org.
The Onondaga Central School District Wall of Distinction was created in 2012 for the purpose of recognizing and honoring graduates of Onondaga Junior Senior High School. An advisory committee considers nominated graduates who have achieved a high level of prominence in their personal and/or professional lives and who have participated in extensive community service or volunteer activities for induction to the Wall of Distinction.
Each inductee has their picture and biography prominently displayed on the Wall of Distinction which is located at Onondaga Central School Junior Senior High School in the Gymnasium Lobby. For further information, please contact Janet Ferris at (315) 552-5020. If you are interested in joining the nomination committee please contact Tim Mumford at 315-552-5020.
Following is a listing of current Wall of Distinction Members by year of induction.
2012
Col. Robert Ramsden, David Muir, Bernie Finlay

2013
Mike Hart, Keith Hawkins

2014
Dr. Rebecca Smart-Keith, Dr. Charles Moore

2015
Dominick Pallotta, David Finlay

2016
Ryan Hotaling, Dr. Vincent Loffredo

2017
John and Nancy Hourigan, Sherman Saunders

2018
Duane Hitchings, Captain Daniel Roach

2019
Latavius Murray, Gary Keehfus